The Empire State Building
by Rob Duxbury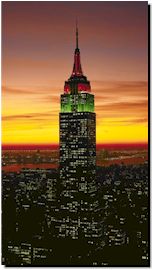 The Empire State Building, completed in 1931, dominates the skyline of Midtown Manhattan, and also the view from my appartment balcony!

The upper three sections of the impressive art-deco skyscraper are illuminated from dusk until Midnight every evening (other than Aids day), often giving the skyline a twist of multi-colour including red, yellow, and blue on public holidays.
The official web site of the building can be viewed by clicking below

Official Site

Lost? Can't find the building? Simply click here for directions.
Some of my favourite interesting facts about the building...


The building's history is full of oddities and marvelous accomplishments that still intrigue men, women and children of the world. A few examples are: in 1945 at the end of World War II, an Army Air Corps B-25 twin-engine bomber plane crashed into the 79th floor of the building in dense fog; from 1931 – present, the building acted as an "Ambassador to New York" to many of the world's renowned political and entertainment figures, such as, Fidel Castro, Queen Elizabeth, Prince Charles, Prince Andrew, The Dutchess of York, Nikita Krushchev, King of Siam and others; the building's dirigible mast (now the base of the TV tower) was originally designed as a mooring mast for Air blimps (unfortunately because of several unsuccessful attempts and the volatile wind conditions at 1,350 feet, the idea was ultimately abandoned).