Paul R's Page
Hello and welcome to the first web page produced by Paul Robinson.
Its a brief foray into this new technology.
The following picture is a snapshot of one of my hobbies - Amateur Dramatics. I've been a member of Overton Dramatic Society (ODS) since 1989.
Roles have included the Cowardly Lion (Wizard of Oz), Mr. Toad (Toad of Toad Hall), the White Rabbit (Alice in Wonderland) and the one pictured below: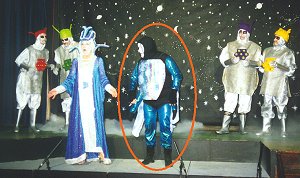 The Millennium Bug from the pantomime STAR TRAIL [November 1999].



ODS were formed in 1980 and the society is celebrating its 20th Anniversary this year.
Our next show is a musical/comedy review with excerpts from a wide range of previous shows - fun for all of the family!!

Details of the show dates, venue, ticket prices etc. are in the table below:


Dates
Tues 2nd May
Wed 3rd May
Thurs 4th May
Fri 5th May
Sat 6th May
Time
19:30
Ticket Prices
Adult £5.00/Conc. £4.00
Adult £5.00